March first marks the beginning of Women's History Month; a month to celebrate and reflect on the bold, brave and innovative women who came before us, and the leaders of today who walk in their footsteps.
In Michigan this year, we have extra cause to celebrate. For the first time in our state's history, women are fully in charge – as the Governor, Secretary of State, Attorney General, and the Michigan Supreme Court. We have the most women serving in the Michigan Legislature and the Michigan Delegation to Congress in state history.
Less than a year ago, men held the vast majority of the highest positions of power in Michigan. Women representation in the Michigan Legislature was abysmal at best with 25 percent in the House of Representatives and 10 percent in the Senate. These numbers often brought to mind a frequently used adage: When you're not at the table, you're on the menu.
Women have always lacked an equal seat at the table in our own governments. This means our rights, dignity, and basic needs are vulnerable or under attack. The last two years have been particularly brutal. Women were relentlessly attacked on their access to healthcare; the Muslim Ban and inhumane immigration policies uprooted families and lives; the rights of the LGBT community have been curtailed; and our economy turns a blind eye to the basic needs of families and children.
So what did women do? Our first step was loudly, proudly, and unapologetically forcing our way to the table in November to claim our seats. Now that we have those seats, this is clear: we still have a long way to go to achieve full equality for all women in Michigan, and it is time we make a whole new table, one that is truly inclusive of all women in our state.
As we continue to lead this progress, we take notes from the women trailblazers of Michigan's past. Our state has a rich history of women who dedicated their lives to disrupting the status quo. They were leaders in civil rights, education, and government, whose accomplishments and impact are felt today. We are indebted to these women. This Women's History Month, we celebrate them.
---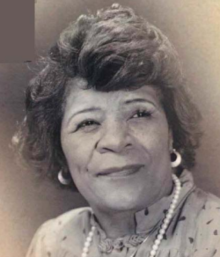 By Merissa Kovach, Policy Strategist
Daisy Elliott, was a former Michigan State Representative from Detroit and civil rights advocate who dedicated her life to public service for the betterment of workers, education, senior citizens, women, and minorities. She is best known for authoring and co-sponsoring Michigan's Elliott-Larsen Civil Rights Act.
Elliott, was first elected to the Michigan House of Representatives in 1962 and served for nearly two decades. In her first year as a state representative she authored what would later become Michigan's present day civil rights act. After over a decade, her hard work and persistence paid off when the Elliott-Larsen Civil Rights Act was passed and signed into law in 1976. The act, which is still law today, is modeled after federal law and bans discrimination in employment, housing, education, and public accommodations on account of religion, race, color, national origin, age, sex, height, weight, familial status, or marital status.
The Elliott-Larsen Civil Rights Act is not Elliott's only notable accomplishment during her years of activism. In 1961, she was elected to serve as one of 11 women with 133 men on the Michigan Constitutional Convention, which resulted in Michigan's present day Constitution. Elliott was instrumental in getting the ground-breaking Michigan Civil Rights Commission enshrined into our constitution, which holds authority to investigate acts of discrimination and enforce anti-discrimination laws across Michigan.
In the 1970s, she helped form the Legislative Black Caucus and was the first woman to chair the House Labor Committee. 
Daisy Elliott's accomplishments - the tools she successfully worked to enshrine into our laws and Constitution to combat discrimination – have been influential to my own career working with the State Legislature at the ACLU of Michigan. In my time here I have seen the protections of Elliott-Larsen be strengthened to protect pregnant workers. And as we continue the fight and advocate to this day for those same protections to expand to cover Michigan's LGBT community.
---
By Jessica Ayoub, Public Engagement Strategist
Grace Lee Boggs was a Chinese-American philosopher, activist and social visionary. She has been described as the heart and soul of the civil rights movement in Detroit.
Originally from Rhode Island, Grace moved to the Midwest in her twenties. While helping to edit a radical newsletter in Chicago, she connected with a charismatic black autoworker and activist named James Boggs, who inspired her with his passion and focus. They married in 1953.
Together, the couple became two of the city's most noted activists, tackling issues related to labor and civil rights, feminism, Black Power, Asian Americans and the environment. Their peers included Malcolm X and C. L. R. James.
Though many of the Boggs' ideas centered around revolution, her personal philosophies were guided more by human experience — and a person's own ability to transform his or her world — than overthrowing a system.
She once said, "we no longer recognize that we have the capacity within us to create the world anew. We think we are only the victims."
James Boggs died in 1993, when Grace was 78. After her husband's death, Grace became deeply involved in Detroit's activist communities. She transcended class and racial boundaries to fight for justice as a leader in her own right.
Right up until her 100th year, Grace remained in demand as a public speaker and community activist. We honor her.
---
By Bonsitu Kitaba, Staff Attorney
Judge Victoria Roberts is a longtime judge in the U.S. District Court for the Eastern District of Michigan. She is the only African American woman to serve as president of the State Bar of Michigan.
A Detroit native, Roberts grew up in Boston-Edison. Her father was a steel worker and her mother did domestic work. Her parents believed strongly in the value of a good education, which was what led her to apply for college at the University of Michigan.
Roberts graduated wanting to be a journalist. Her life took a sharp turn after applying for a position at a local newspaper and being rejected because – despite her excellent portfolio – they had already hired one black reporter, filling their quota.
A friend who had driven Roberts to the job interview urged her to become a lawyer so she could battle injustice. While she was crushed, she persisted.
Her legal career is marked by many impressive achievements; research for the Michigan Court of Appeals, teaching at Michigan State University, traveling the world and training legal practitioners in Kenya and Malaysia, and working in private practice.
On July 31, 1997, Roberts was nominated by President Bill Clinton to a seat on the U.S. District Court for the Eastern District of Michigan. She was unanimously confirmed.
Judge Roberts quickly made her mark, progressing the tough work of the civil rights movement. Her opinions are renowned for their moral clarity and fairness. Most recently, she was a judge in the Arab American Civil Rights League v. Trump lawsuit filed in response to Donald Trump's travel ban.
Beyond the courtroom, Judge Roberts has been an educator and mentor for countless women and men. She invests much of her time nurturing the next generation of black leaders in the Detroit community and beyond.
Judge Roberts is a true champion of justice. She has changed how a judge should look, sound like and behave. We honor her.
---
By Sharon Dolente, Voting Rights Strategist
Catharine A. MacKinnon pioneered breakthroughs in legal scholarship that made a profound difference in the lives of women and survivors of sexual assault.
When MacKinnon entered law school in the 1970's, women who were sexually harassed at work had few legal rights.  MacKinnon set out to change that by developing legal theories that would allow victims of sexual harassment to hold their employers and their harassers accountable. 
In an influential book published soon after graduating, MacKinnon created the legal claim that sexual harassment is a form of sex discrimination under Title VII of the Civil Rights Act of 1964. Her idea made waves. Seven years later the United States Supreme Court adopted MacKinnon's view that sexual harassment violated federal civil rights laws. 
MacKinnon created new legal theories in other areas affecting women's rights and sexual abuse, including rape, prostitution, sex trafficking and pornography. Her work has been highly influential abroad; her frameworks have been adopted in Canada and Sweden.
Serving as the first special gender adviser to the prosecutor of the International Criminal Court in The Hague from 2008 to 2012, she implemented her concept of "gender crime."
Today, MacKinnon is the Elizabeth A. Long Professor of Law at the University of Michigan Law School, where she has been tenured since 1990, and the James Barr Ames Visiting Professor of Law at Harvard Law School.
Catharine A. MacKinnon is a phenomenal legal philosopher that paved the way for the broader women's rights movements.
We honor her.
We will update this page throughout the month. Check back weekly for profiles of Michigan's women trailblazers, as told by our staff.